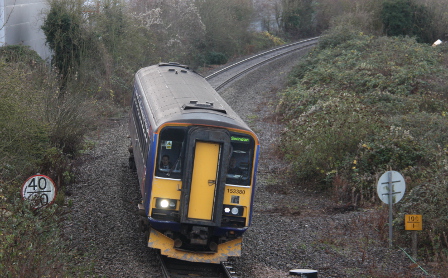 The TransWilts Community Area Partnership is a division of the TransWilts Community Interest Company. - See [here] for TransWilts Vision2020

Timetable May to December 2018 - download from [here]

Melksham Station, the way forward - presentation [here]
Service plan 2019 and beyond - proposal [here] and presentation [here]

27 June 2018 - Melksham Rail User Group (Town Hall, 19:30)
20 June 2018 - TransWilts Stakeholder Meeting, Trowbridge

Administration, Privacy, Finance and Constitution
The "Small Print" of our web site, if you like!

Press Release, 3rd September 2013

Community Rail Partnerships are a coming together of local government, the rail industry, businesses and community groups to help promote through co-operation and the sharing of skill, knowledge and volunteer resources the best use of particuar local or regional train lines or services.

The TransWilts Community Rail Partnership was formalised on Saturday, 31st August, with a view to giving maximum support to much anticipated additional services that will be running from Swindon to Westbury in the near future, helping to maximise the early uptake of use of the line and to work for its continued strong passenger growth.

The draft constitution was accepted, the founding officers and steering group appointed, and the first AGM scheduled for 7th February 2014 - all unanimously - in a brief special general meeting. Representatives of First Great Western, Wiltshire Council, the Swindon and Wiltshire Local Enterprise Partnership (SWLEP) and the Fedaration of Small Businesses sponsored, proposed and seconded the various votes.

First Great Western, Wiltshire Council, the chair of the SWLEP and Duncan Hames MP (Chippenham) updated the community and user groups present on plans for service enhanceents, on engineering works scheduled for the next 3 years, on related improvements and information system under the local sustinable tranport fund, and on future direction and funding / financial issues and prospects beyond 2015 through as far as 2025.

The TransWilts Community Rail Partnership will provide a consolidated input and information discemination point for community and business groups to local authorities and the rail industry concerning the TransWilts rail line and linked / connecting service and transport.

Partnership activities this summer have included assisting with survey work at Chippenham Station in July, helping to promote and providing on train voluteers on retimed Bank Holiday services taking people from Swindon via the line to the seaside for the day, leafletting throughout Melksham, and one of our station groups has been busy gardening at a station too. Our web site - www.twcrp.org.uk - already provides current information on our activities, advise to passengers who wish to use trains, timetables and more.

We have a busy six months coming up, including the probable introduction of a new service, subject to a number of matters including agreement beteen First and the Department for Transport on the operation of passenger trains right across South West England for the next 3 years.

The new service will have a significant impact for all the town served along the routes.

Press enquires to Graham Ellis - graham@twcrp.org.uk. Phone 0845 459 0153. Web site http://www.twcrp.org.uk
Constitution - the TransWilts CRP
July 2013 ...
Now that the case for an improved TransWilts train service is generally acknowledged, and indeed mechanisms (including funding) are largely in place, it's time to move on and formalise the TransWilts Community rail partnership under an ongoing constitution. We'll be meeting on 31st August to ratify the constitution. The draft, put together based on the experience of other CRPs and with a great deal of knowledgeable input is available for view / download [here].

Introduction

The TransWilts Community Rail Partnership is a group of like-minded organisations seeking to improve the TransWilts railway line which connects Swindon to Salisbury via Chippenham, Melksham, Trowbridge, Westbury, Dilton Marsh, Warminster and Salisbury through co-ordinated activity with the railway, local communities and government bodies.

The TransWilts Community Rail Partnership (TWCRP) aims to achieve positive, sustainable and imaginative development of the TransWilts (Swindon to Salisbury) railway in ways which also benefit the places it serves, including enhancement of services to meet the current and future travel requirements of those places. It sees the line as an essential link for the local communities and businesses along the route, and as part of the projected strategic north - south rail link through an area experiencing major expansion. The TWCRP liaise with all interested parties to promote the social, economic and environmental prosperity of the local communities.

Aims and Objectives

• To promote and enhance the use of rail services on the "TransWilts" line which connects Swindon to Salisbury via Chippenham, Melksham, Trowbridge, Westbury, Dilton Marsh, Warminster and Salisbury and other connecting transport services.
• To encourage and promote rail travel for all purposes, including progression of regeneration, tourism/leisure and community development projects.
• To create a forum to bring together the knowledge and aspirations of the local community with the skills and resources of the rail operator in order to produce an economically viable, welcoming and stable service.
• To enable local communities to increase their economic, social and environmental welfare by making use of the railway line.
• To develop the railway on a sustained basis for the medium- to long-term.
• To promote physical, informational, and environmental accessibility for all to the trains, stations and the places they serve.
• To develop new appropriate uses for stations and their buildings that provide new and improved facilities; thus make stations more user- friendly; and so encourage use of the train.
• To contribute to reducing traffic congestion, and improving road safety and air quality.
• To identify potential sources of funding and mechanisms to carry out projects aimed at achieving the above.

See full constitution (link above) for membership, operation, mechanism and management details
---
The TransWilts Community Rail Partnership is not at present a member of the Association of Community Rail Partnerships, nor have we ever been a member. Our joining was given consideration in March 2011, but did not progress to membership. ACoRP state: "ACoRP's primary purpose is to promote existing train services and work co-operatively with the TOC and other members of the rail industry. Our remit does not extend to re-openings or major train service development ...".

We felt at that time that were are better placed outwith the straightjacket that being an associate could put us into, at least until the current discussions on future service levels are concluded in such a way that the CRP members are happy that the service provided is one that is marketable and running in the customer's best interest. Such a time is getting much closer and with formalisation of the CRP and better services on the horizon, we may be getting closer to the time that it would be benefial for us to re-apply and join if accepted.
Privacy
Any personal details which you supply to the TransWilts CRP will not be used / circulated outside the partnership without your permission. At present, we only maintain an ad-hoc list of email addresses for people who have signed up to support us, through which we send out very occasional briefings, which are always accompanied by a friendly note asking you to let us know if you would like to be taken off the list for any reason.

Some parts of our website may use cookies, and we may store details about your current and past sessions on our servers in order to link up your pages / actions - this is need on forums, for example, so that we can report your status and posts, and allow you admin / moderator / working group member / frequent poster / member rights secure in the knowledge that you've specifically agreed to our terms and conditions of membership.
Administration - how the CRP is run
Community Elements met a number of times in 2010 and 2011 (and indeed have already met in January 2012 - this is being written late that month), but predominantly we co-ordinate online via email and various forums.

The draft constitution (version 0.2) was produced by representatives of / with major inputs from:
• Chambers of Commerce
• Railway Development Group (Melksham)
• Current service user
• Train Operating Company
• Members of neighbouring Community Rail Partnerships
• Wiltshire Council
We are fortunate to have a strong team of informal partners, willing to provide help / advise and each with skills in multiple areas.
Finance - the TransWilts CPR
Update needed to fully describe - Grant funding element, work with TransWilts Rail, and sponsorships of summer service - now within the unfunded group, but all working together using funding sources to pay the costs of progressing our aims.

Previous text:

Until the date of writing this article (February 2011), The Community Rail Partnership has been funded by the individual members, who have given of their time and paid their costs in getting to meetings where appropriate. There has been an element of sponsorship from the Melksham Railway Development Group which financed a room hire in Trowbridge, from Wiltshire Council who funded and printed the first Dilton Marsh timetable leaflet, and from Well House Consultants who have provided meeting rooms, hotel accommodation where members are unable to travel on the day to / from meetings, and who provide the web space and bandwidth for this site.

We have come to realise that - much as we like the unfunded principle and the simpler operation that it brings, we do need to have a funding stream to cover such items as:
• Travel costs for member attending meetings
• Printing and production costs
• Hire of rooms, professional service where not available from within, etc
• Advertising and publicity where appropriate
• Membership fees for organisations such as ACoRP should we join at some future date
• Taxes, fees and other ancilliaries associated with the above

It is also very noticable that almost all of the organisations involved, or to be involved in, an expanded partnership that goes with the efficient support of revitalised services will be staffed by employees on a Monday to Friday working week, and meetings are scheduled during those hours. These people are committed to their organisations for their work hours and have the time to follow through and keep paperwork and contacts rolling. Our own organisation, however, tends to meet in the evenings and at weekends, and the members who run it do so in their spare time. Meetings during the working week are very hard to attend, and there are never enough hours in the day for follow through and paperwork at the level that it's becoming apparent will be necessary should there be a strong service to support in 2012. These members are just as enthusiastic (often much more so), just as committed - but underresourced and unfinanced, and we should look to providing an element of financing (as described above) plus support resources in the form of a part time Partnership Officer, looking perhaps at the Heart of Wessex CRP and the Three Rivers CRP - both of which adjoin us - as models.
---
TransWilts Community Rail Partnership - http://www.twcrp.org.uk - info@twcrp.org.uk





CONSTITUTION, ADMINISTRATION, FINANCE, ETC

Connecting Communities